IKEA Furniture Store Destroyed
By Reema, Gaea News Network
Sunday, February 6, 2011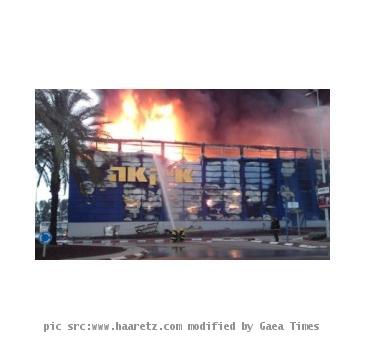 more images
NETANYA, ISRAEL (GaeaTimes.com)- One of the leading furniture store, IKEA Furniture, situated in the city of Netanya was burned into ashes, after a massive fire broke out early on Saturday. The store that employs more than 400 employees, did not report any casualty. However, the loss has been estimated to be something near NIS 350 million, as it is regarded as one of the biggest furniture store in the nation.
Reportedly, the IKEA Furniture store in the Netanya city covers 2,000 square meters. It garners two big floors, well equipped with the most stylish furniture that attracts more than 7,000 customers every day. This particular outlet was built in 2001 and since then it has reigned to be the biggest IKEA Furniture store in Israel. Last year, in October, the company opened a brand new branch in Rishon Letzion, which became the second biggest IKEA Furniture store, until the biggest one was burnt down yesterday. IKEA Israel chairman Ron Hadassi said that no one could determine why and how the accident took place but he is glad that none of the employees were injured. He added that it might take even a year to renovate the giant store. Until then, Shlomo Gabbay, the IKEA Israel's CEO, has promised to look after his employees during the renovation period.
When IKEA Furniture store was set on fire, it took more than 70 firefighters to get the situation under control. All those who witnessed the accident said that it was like a mushroom of smoke above the store. IKEA Isreal is a part of a Swedish-based conglomerate which invited more than 3.5 million shoppers last year, including both the stores at Netanya and Rishon Letzion. As of now, the customers only have to resort to the Rishon Letzion branch, if they want to buy their products.