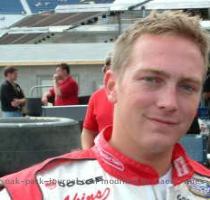 more images
Having lost vision in 1 eye, Roush back at track
Roush back at track after plane crash
BROOKLYN, Mich. — Jack is back.
Biffle: Roush might be back at track this weekend
NASCAR's Roush out of hospital after plane crash
NASCAR's Jack Roush upgraded to fair condition
Win for Jack: Biffle wins one for Roush at Pocono
Biffle wins for injured Roush at Pocono
LONG POND, Pa. — As he closed in on the finish line, Greg Biffle knew the only person worthy of dedicating this victory to at Pocono Raceway.
Pocono promising safety changes
LONG POND, Pa. — Pocono Raceway keeps taking hits.
Roush transferred to Mayo Clinic
ROCHESTER, Minn. — NASCAR team owner Jack Roush has been transferred to the Mayo Clinic following surgery on facial injuries he sustained in a plane crash in Wisconsin.
Roush still hospitalized, stable after plane crash
NASCAR's Roush injured in Wisconsin plane crash
NASCAR's Roush OK after plane crash
MILWAUKEE — NASCAR team owner Jack Roush is OK after he was involved in a plane crash in Wisconsin, Roush Fenway Racing president Geoff Smith tells The Associated Press.
Kyle Busch 8th at Brickyard despite crash
INDIANAPOLIS — Kyle Busch's day at the Brickyard 400 finished much better than it began.
NASCAR Trucks race postponed by power outage
Harvick survives wild Daytona race for victory
Harvick wins wild race at Daytona
DAYTONA BEACH, Fla. — Kevin Harvick lined up next to his Richard Childress Racing teammate for a two-lap sprint to the finish at Daytona International Speedway.
Speeds hit 195 mph on slick Daytona surface
Gordon apologizes _ sort of _ for aggressive day
Edwards wins Nationwide race at Road America
Hamlin cruises to fourth career win at Pocono
Busch wins Nationwide race at Dover
DOVER, Del. — Clint Bowyer saw his target and hurried off pit road. Angry after a hard lick only moments earlier, Bowyer sped toward Denny Hamlin and sent him straight into the wall.
Junior wrecks 1 car, bangs up backup at Darlington
Weather woes cancel Saturday action at Talladega
Hamlin wins again on Monday, this one in Texas
NASCAR doubleheader at Texas postponed by rain
Miners had one last dinner with families
CHARLESTON, W.Va. — For the West Virginia miners killed in last week's explosion, Easter dinner was the final time they would spend with relatives.
Power goes 2-for-2, wins IRL's Honda Grand Prix
Edwards defends character after Keselowski crash
NASCAR puts Carl Edwards on probation for 3 races
Carl Edwards gets 3 weeks' probation from NASCAR
NASCAR drivers Edwards, Keselowski still feuding
Kurt Busch wins again at Atlanta after 2 crashes
Wreck ruins Danica's NASCAR debut
DAYTONA BEACH, Fla. — Even as her mangled race car belched steam from its radiator in the background, Danica Patrick remained confident she would have good days in NASCAR.
Stewart rolls to 5th Daytona win in last 6 races
Patrick in 12-car accident in NASCAR debut
NASCAR champ Johnson crashes in practice
DAYTONA BEACH, Fla. — Four-time NASCAR champion Jimmie Johnson crashed during practice Thursday for this weekend's 24-hour race at Daytona International Speedway.
NASCAR's Hendrick adds 2nd plane to Haiti relief
Hendrick adds 2nd airplane to Haiti relief effort
Hendrick lends plane for Haiti earthquake relief
Bobsledding and danger _ bosom buddies
LAKE PLACID, N.Y. — Todd Hays knows he's a lucky guy. He's still standing.
Piquet Jr. says he's switching to NASCAR
MADRID — Former Renault Formula One driver Nelson Piquet Jr., who last year triggered a scandal by revealing he deliberately crashed his car to help a teammate, is moving to NASCAR in 2010.