Swiss rocker killed in crash on Nevada interstate
Swiss rocker Steve Lee dies in US highway accident
UN agency makes unusual Pakistan aid appeal
Deadly flooding spreads to Pakistan's heartland
1 dead, 42 injured as Swiss tourist train derails
Swiss Glacier Express train derails, dozens hurt
Senate chairman starts probe of Transocean's taxes
Central America called free of antipersonnel mines
Swiss police probe American student's death
UN criticism not likely to stop CIA drone strikes
AP Interview: Haiti still struggling from quake
Red Cross: Haiti struggling 4 months after quake
Rig owner holds closed-door meeting in Switzerland
Swiss retreat helps Transocean save millions
Ash from Iceland's volcano shuts European airports
Ash closes airports in Spain, Portugal, Italy
Life s-s-s-saver? WHO launches snake venom website
Bohn leads weather-plagued Zurich Classic
AVONDALE, La. — Jason Bohn had a three-stroke lead Saturday when third-round play in the weather-plagued Zurich Classic was suspended because of darkness.
Bad weather suspends play at Zurich Classic
Airlines lose $1.7 billion, ash blame game begins
UN health agency: Fallen volcano ash a health risk
UN says El Nino good news for Haiti hurricane risk
IOC backs Russia over security at Sochi Olympics
UN rights chief laments 2009 Afghan civilian toll
Swiss Re puts Chile quake insurance cost at $4-7BN
Mandatory insurance proposed for UK dogs
LONDON — A chip for Spot? In a country where guns are tightly controlled and even carrying a kitchen knife can bring prison time, some thugs use dogs to menace their victims. Now the British government is proposing that dog owners be forced to get microchips and take out insurance for their pets.
Tesla: engineers' death won't derail new model
Pedal issue at first drew little notice in Europe
Aid groups enlist Google to help in Haiti effort
UN sending 45 satellite phones to Chile
UNITED NATIONS — The United Nations is sending 45 satellite phones to Chile for officials coordinating earthquake relief efforts and is prepared to send 30 tons of food and other aid if the government gives the green light, the top U.N. representative for Latin America said Monday.
Bode Miller leads US to silver, bronze in super-G
Swiss brakeman hurt in crash
WHISTLER, British Columbia — Swiss brakeman Juerg Egger has been injured in a bobsled crash.
Another Olympic flub by Jacobellis; US hockey wins
Skier survives 17 hours under Swiss avalanche
Swiss cops: man survived 17 hours under avalanche
Haiti, Swiss gov't losers in Duvalier cash ruling
Happy, healthy Lindsey Vonn is ready for Olympics
UNESCO calls for ban in trade in Haitian artifacts
Interpol chief: Passport fraud major global threat
Medicine running out at Haiti hospitals, clinics
Lawsuit settled over deadly Miss. paper mill blast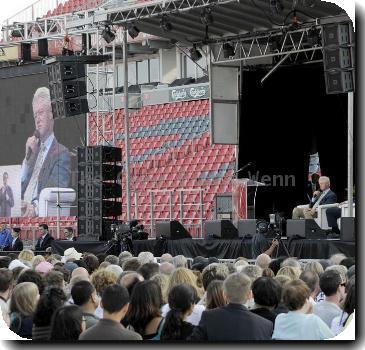 Followers good, dollars better for social media
Haiti's children on their own on shattered streets
Many flee Haiti capital, govt plans tent cities
Haitian woman found alive after 10 days in rubble
Haiti relocating homeless, port repairs needed
Brief aftershock hits stricken Haiti capital
Haiti to relocate 400,000 quake homeless
PORT-AU-PRINCE, Haiti — Within days, the government will move 400,000 people made homeless by Haiti's epic earthquake from their squalid improvised camps throughout the shattered capital to new resettlement areas on the outskirts, a top Haitian official said Thursday.
Haiti to resettle 400,000 quake victims to camps