Indonesia's Tsunami Wrecks Havoc
By Swatilekha Paul, Gaea News Network
Friday, October 29, 2010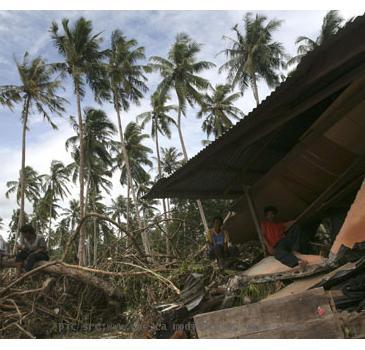 more images
JAKARTA, INDONESIA (GaeaTimes.com)- A 7.7 magnitude earthquake that rocked the west coast of Indonesia's Sumatra island has wrecked a havoc in the region with the death tool crossing 400. The tremor were followed by a series of aftershocks in addition to the tsunami that stuck the Indonesian islands killing many while the whereabouts of hundreds still remain unknown. In order to provide aid to the large number of victims of the earthquake and the subsequent tsunami that was triggered, the Indonesian government are taking necessary steps while help from many countries as well as relief organizations has been pouring in.
While authorities are trying their best to cope with the devastation that has been caused by the tsunami in Indonesia, the adverse weather conditions as well as rough seas that has been prevailing for the past few days has made the rescue efforts all the more difficult. Phillip Charlesworth, who is associated with the International Federation of Red Cross and Red Crescent Societies in the earthquake ravaged country, told media outlets that all the rescue organizations and agencies are struggling to provide the much-needed aid to the victims of the earthquake and tsunami.
In order to provide an impetus to the relief operations, countries such as United States and many Asian nations have offered to help the victims of tsunami in Indonesia. Unfavorable weather conditions in the country have prevented the smooth flow of the relief measures to the areas worst hit by the natural disaster. At the same time, Indonesian authorities have also emphasized that warships and troops are being dispatched to provide aid to the remote areas of the country.