One-horned rhino killed in Kaziranga park
By IANS
Thursday, October 28, 2010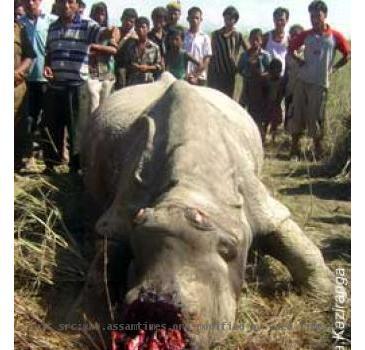 GUWAHATI - An endangered one-horned rhino was killed and its horn gouged out by poacher gangs at the famed Kaziranga National Park in Assam, officials said Thursday.
A wildlife official said the latest killing was reported from inside the sanctuary, 220 km east of Assam's main city of Guwahati.
The rhino was killed using automatic weapons and the horn gouged out, Assam Forest Minister Rockybul Hussain said.
The minister visited the park on receiving the report of the adult female rhino being slaughtered.
A massive anti-poaching operation was launched, the minister said.
As per the 2009 census report, some 2,048 of the world's estimated 3,000 one-horned rhinos lumber around the swamps and grasslands of Kaziranga, their concentration here making the giant mammals a favourite target of poachers.
Eleven of the beasts were killed so far this year, while 18 rhinos were killed in 2008 and 14 in 2009.
Between 1980 and 1997, some 550 rhinos were killed by poachers in the wilds of Kaziranga, the highest being 48 in 1992.
Poachers kill rhinos for their horns, which many believe contain aphrodisiac qualities, besides being used as medicines for curing fever, stomach ailments and other diseases in parts of Asia. Rhino horns are also much fancied by buyers from the Middle East who turn them into handles of ornamental daggers, while elephant ivory tusks are primarily used for making ornaments and decorative items.
Profits in the illegal rhino horn trade are staggering. A rhino horn sells for up to Rs.1.5 million per kilogram in the international market after the horns are smuggled to clandestine Asian markets, according to officials of the forest department.
Once extracted, the rhino horn is routed to agents in places like Dimapur in Nagaland, Imphal in Manipur and Siliguri in West Bengal.
A possible route of rhino horn smuggling is to Kathmandu via Siliguri and then from Nepal to China and the Middle East. The other possible route is from Imphal to Moreh on the Manipur border with Myanmar and then via Myanmar to Thailand, Vietnam, Singapore and China.